8 Best Practices that Position Faith-Driven Financial Advisors for Success
June 16, 2021 •Cole Pearson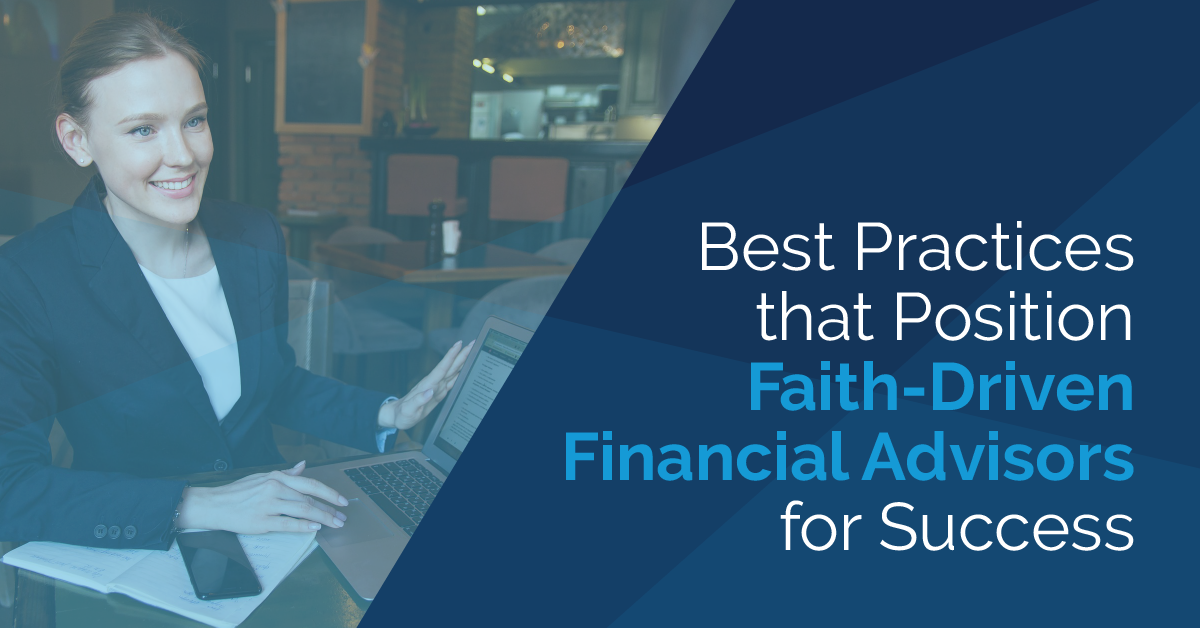 What are best practices?
Best practices inform and guide how we work and produce outcomes. Without them, steering your operation and clients in the right direction becomes increasingly difficult.
Best practices offer you several benefits.
They identify and address key knowledge gaps
They enable solid decision-making
They directly impact the efficiency of your operation
They become a true north everyone can refer back to
They boost creativity (more on that in a minute)
They make great results repeatable so that you can scale
The reality is these ideas are likely nothing new for you. If you're like many financial advisors, you spend valuable time and energy establishing and optimizing your own internal best practices.
What best practices exist for all financial advisors?
Narrow your target audience
It sounds counterintuitive at times, but narrowing your niche is one of the most powerful moves you can make in your business. Generalists in any industry are rarely renowned or sought out. Author and business expert Mike Macholwicz said it well when he stated, "Everyone is not your market. Focus has a compound interest". When you serve a specific audience, demographic, or need, you become known for solving their specific set of problems. Is it a particular age group? Young married couples? Business executives? It's essential to start with "who" first. To Macholowicz's point, the more you focus on the needs of that narrow audience, your expertise and abilities grow too.
Segment your services to match client needs
Your audience comes to you looking to solve a specific problem. You must identify why they came to you so that you can respond in kind with a relevant service model. If someone comes to you looking for strategic input, immediately offering execution can lead to a disconnect. Everyone wants to feel heard. We often recommend the approach of "give them what they ask for so that you can ultimately get them what they need." For example, when clients ask for strategy, what they might really want is confidence in their financial future. It's your job to get them a strategy (what they are asking for) through a diversified portfolio (what they need to achieve that goal).
Employ a repeatable service model
It's exhausting building a service model for each new client. Although clients come to you with unique needs, the key to serving them well is to build a repeatable service model you can duplicate. Each service you offer needs a clearly outlined process and set of deliverables. It's how you create consistent client experiences that scale your business. When new clients or team members join your firm, you need a playbook that outlines each next step so that everyone understands the value proposition of your approach. If a client asks what you have done for them or what the next steps are, it's time to optimize your service model. Make it easy to understand. Make it repeatable. Those are the hallmarks of a faith-driven advisor's business that is positioned for greater outcomes and growth.
Focus on net flow
It's easy to focus on the daily grind of client work and accidentally neglect your own long-term strategy. To run or grow a healthy financial firm, advisors need to prioritize a focus on net flow. It's natural to face client attrition through retirement and other circumstances. Relying on the market doesn't keep you in the driver's seat of your business. Prioritizing results for existing clients and onboarding new ones helps protect you against market volatility so that your firm can scale and provide a greater Kingdom impact.
Ask for referrals and testimonials
The faith-driven financial advisors we work with understand the value of hard work and humility, which often makes asking for referrals feel awkward. It feels unnatural. The reality is when you've done great work, asking for a referral or testimonial is an act of service. It's a strategic decision to pursue those same results for others. A few tips:
Incentivize clients to do so as a way of acknowledging the investment of time and energy it requires of them.
Offer to write testimonials that they can review, edit, and approve. Most people struggle to know what to say. This approach gives them a headstart–making it easier.
Remember that giving a referral feels risky. Provide the best experience through a repeatable service model to provide them with peace of mind in your abilities.
Lean into your strengths and staff your liabilities
Too many advisors try to fill every role in their firm. While this may need to be the case for a season, it is not a viable long-term solution. The most successful financial advisors know what they are good at and build a team around them to facilitate the other necessary areas that are not their forte. If being highly relational is your superpower that builds your business, it might be wise to complement that with another team member gifted in administration. Don't be the lid to your growth. Lean into what you do best and empower others to do the same.
Get your clients results
Clients are trusting you with their hard-earned resources. The work you do, even when it feels mundane, is important. The financial advisors who sustainably grow their firm and find success get results. Thankfully, even though the stakes are high, you don't have to do it all on your own. Our platform here at OneAscent simplifies the world of values-based investing, so you ensure successful outcomes that align with the kind of impact your clients want to see in the world.
Remember that everything communicates
In today's world, marketing often gets a bad rap. It's unfortunately seen as a combination of slimy tactics or manipulation. The reality is that marketing is simply a tool to help you start new relationships. To build trust inside those relationships, it's important to remember that everything communicates. Have a younger audience? Consider making more of your process digital for their convenience. Serving couples approaching retirement? They may value an office to visit or other traditional elements of meeting with their advisor. Be flexible, offer value that simplifies their world, and communicate in ways that lead to meaningful relationships with your clients.
The OneAscent platform–built with best practices in mind
Whether it's culture, financial markets, evolving best practices, or a litany of other factors, being a kingdom-minded advisor in today's financial industry is full of challenges and opportunities.
We harness values-based investing (VBI) to offer you a platform complete with the marketing, operations, investments, compliance, and technology pieces you need to grow a thriving financial firm.
Values-based investing prioritizes both financial returns and personal interests so that portfolios increase alongside impact.
[1] https://www.morganstanley.com/press-releases/morgan-stanley-survey-finds-investor-enthusiasm-for-sustainable-